WHAT ARE THE BEST PROMOTIONAL PRODUCTS FOR 2020?
Everybody wants to know what the next new thing in promotional products is.  So here it is!
There is value to being "on-trend".  But we also want to make sure that whatever promotional product you choose to represent your brand actually does represent your brand.
So, rather than focus on gimmicky items that will lose their popularity, I look for big trends in style, imprint, color, and usage. In this post, I will cover some of these big trends and some tips for making your promotional items meaningful. 
THE GIMMICK CHALLENGE AND GENERATING ROI FROM PROMOTIONAL PRODUCTS.
I recommend staying away from gimmicks, such as the latest phone gadget or fidget spinner pen. These items lose their popularity sheen very quickly and can bring your brand down with them.
Promotional products should deliver a return on your investment, not be a misfire.
So the trends I look toward are timeless, long-lasting, and reusable products that remind your audience of your brand over time. The best product is one that someone will use every day, and when they do, they think of you.
As a result of increasing emphasis on hydration and avoiding disposable plastic bottles, drinkware is huge. Cool new shapes, textures, and printing locations, drinkware will continue to be a hit in 2020.
There are also companies spending a lot of time building their brand in this category, creating products that people want to show off.
The best drinkware promotions pair your brand with names such as Yeti, Swell, and Hydroflask. People love receiving these items, they use them all the time and show them off constantly.
You get the benefit of the money spent on building these brands but without having to pay the millions of dollars to get there. These are great for a targeted campaign when we want to impress someone or thank them.
Imprint location also matters, and with drinkware, a lot of the innovation has been in new imprint locations.
We can now incorporate a slogan, tagline, or inspirational quote to the item. We can have your tagline on the side and logo on the top or the bottom.
MY FAVORITE FOR 2020 HAS TO BE THE CAMPFIRE MUG. IF YOU DON'T HAVE A CAMPFIRE MUG WITH A LOGO ON IT, YOU ARE MISSING OUT.
AVION 12 OZ COPPER-LINED BOTTLE
Socks…. who would have predicted in the era of social media and high tech that socks would be the place to go.
Even kids collect socks and laugh at funny things printed on them.
The trend is so big that the "kids" are putting them over there skinny pants and wearing vans shoes. I, personally, will refrain from socks over skinny jeans, but I have been seen at the gym with tube socks over leggings.
AND WHO WOULDN'T WANT TO SHOW OFF A CUTE SAYING OR IMAGE?
Socks are a fantastic promotional item because people enjoy them, they can be witty and colorful, and they are useful. Like the water bottles, they fill a need.
Socks Campaigns really work because they are unusual and give people a way to connect with the brand through humor.
EVERYONE CAN ALWAYS USE A PAIR OF SOCKS!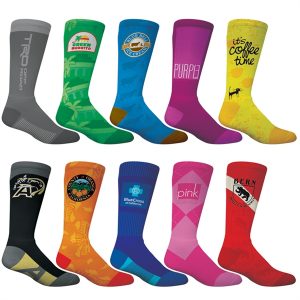 TREND # 3 – Canvas Tote Bags
We are all lugging stuff around, and we aren't going to stop any time soon.
Trips to libraries, grocery stores, shopping, school all lead to things that need to be toted around. And an increased move away from single-use plastics to reusable totes means that these will be around for a long time.
AND THAT IS WHAT MAKES COTTON CANVAS TOTE BAGS SUCH A GREAT PROMOTIONAL PRODUCT. THEY'RE VISUAL, FUNCTIONAL, AND PORTABLE.
On average, a consumer will keep a promotional bag for about seven months, walking around with your name and logo for the world to see. This average includes plastic non-woven bags, and I suspect the longevity of canvas totes is much longer.
BAGedge 12 oz. Canvas Tote with Contrasting Handles
The higher the quality or more usable size, the longer they will keep the bag and keep remembering you.
The best part of cotton canvas tote bags is that they appeal to a broad audience. While most promo products have their sweet spot, promo bags are used by everyone, from kids to adults, women, and men.
Pick your gender-friendly design and give them away at trade shows, fundraisers, and conventions in particular. Branded tote bags will grab your audience's attention and keep them engaged with your brand for months or years.
This is a very recent development and is turning out to be a great promotional idea. Again they tie into the move away from single-use plastic items. They are a bit witty and unusual and have some serious staying power.
With the state and local governments bringing awareness to using less plastic, straws and plastic bags are being targeted.
More and more restaurants near me have opted to no straw or a metal straw unless a plastic straw is requested. Plastic straws take up to 200 years to degrade and even then don't fully return to the soil. They end up affecting wildlife, the ocean, and the air we breathe. It's no wonder many restaurants are banning disposable straws altogether!
But, if you have ever gone out for a drink with friends and received one of those paper straws that taste funny and stick to your lip, you will get why people are carrying their own straws.
REUSABLE STRAWS ARE MUCH BETTER FOR THE ENVIRONMENT!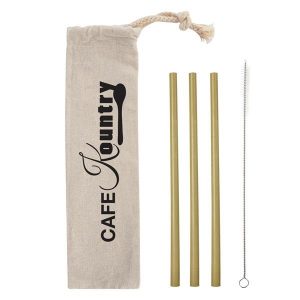 3 Pack Bamboo Straw Kit In Cotton Pouch
Straws are the promo product to use if you are trying to bring awareness to an eco-friendly brand or campaign. Silicone or stainless steel straws are the trendiest promo product. They have small little cleaning brushes and carrying cases.
These are especially great for nonprofits dedicated to environmental causes, or any organization hosting an eco-friendly marketing campaign. Custom, reusable straws can be a great part of your promotional efforts. WHAT ARE THE BEST PROMOTIONAL PRODUCTS FOR 2020?
TREND # 5 – Soft-Touch Finishes
This is my favorite trend and one that I jumped into wholeheartedly.
I have soft versions of business cards, pens to drinkware you name it. Why? Because I love it. Not only does it spark the senses in a new way and gain extra attention, but it is also way cool and different.
People love to touch soft-touch finished items, and the sense they get reflects very well on your brand.
The soft-touch is a rubberized finish that can be sprayed on many surfaces printed and branded in different ways.  We use it in silkscreening to laser engraving to full-color imprints. The options are endless. WHAT ARE THE BEST PROMOTIONAL PRODUCTS FOR 2020?
In addition to a tremendous tactile sense, it also isn't transparent, opening up options for appealing light up promos when laser engraved. So you end up with a multi-sensory brand experience!
 Leather has been knocked off a lot from pleather to vegan leather. However, nothing withstands and looks better with time better than real genuine leather.
Leather is hardly new. Leather goods have always been popular and are now circling back into demand.
The materials also tie well into the continuing theme of natural reusable materials. Leather is one of the few materials that actually IMPROVE with use.
Premium Leatherette Notebook with Zipper Pocket
This makes leather a great corporate gift for clients, or an excellent employee thank you gift. Items such as journals, padfolios, wallets, key straps, luggage tags, and cord organizers are among the popular items.
They are sure to impress your recipient and be kept for a long time. So anywhere value matters, leather is a great promotional item.
PROMOTIONAL PRODUCTS ARE A MUST FOR ANY MARKETING CAMPAIGN.
They add value to your advertising efforts that nothing else can accomplish. People who have received a promotional product from you are 88% more likely to remember you. If they remember you, they are more likely to do business with you. WHAT ARE THE BEST PROMOTIONAL PRODUCTS FOR 2020?
Put your brand message out there and be attractive, visible, and on an item that your consumer can't say no to. Be thoughtful about how you brand your message on the item by integrating text or patterns along with your logo.
Use promotional products to stand out, get a great product with a great design, and be remembered way beyond the first impression.
If you are interested in promotional products for your company reach out to a brand strategist today.
EMAIL: outteam@brandnewpromotions.com

PHONE: 469-573-3396